Now through April 30th
Efflorescence:
A Serial Songspiel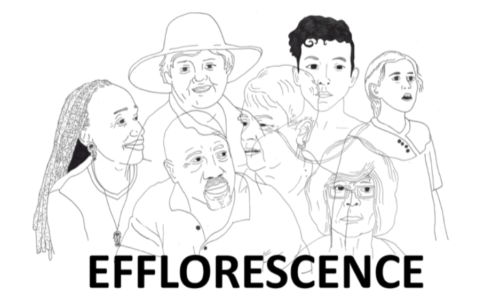 Efflorescence tells the story of six disparate people who have been living together for a year in an old farmhouse in the Catskills that has been transformed into a safe haven for Vulnerable Expendables. The story unfolds over seven nights that coincide with the nights on which each episode will be presented. The characters begin each night by singing together while they wash their hands outside in a tub of warm water. Each night they take a turn telling stories – stories of life-changing encounters with dogs, snakes, obscene plant life, sea nymphs, and the School of Disembodied Poetics. Linking these tales is the story of their evolving relationships – their struggle and fascination with each other and the natural world around them. The first episode begins on a night when a mysterious stranger arrives, shaking up the world they have created for themselves.
The cast of Efflorescence features Will Badgett,  Suli Holum, Jax Jackson, Violet Newman, Tina Shepard, Louise Smith and Connie Winston along with musicians Maria Kovacevic and Sam Kulik.  Sound design is by Tyler Kieffer  with additional musical arrangements by Sam Kulik and Maria Kovacevic.
All seven episodes FREE
Listen Now
Coming Soon
The Woman's Party
The Woman's Party takes place 27 years after the ratification of women's suffrage, when the Equal Rights Amendment was poised for passage. We meet ten impressive women, veterans of the original battle, roughly organized in two opposing sides: one representing strategic, sometimes brutally single-minded focus on passing the ERA, the other seeking a broader mandate, to include other issues, other voices. The production grapples with critical failures within that chapter of Feminism, and what happens when vision and strategy are at loggerheads.
THE WOMAN'S PARTY
by Rinne B. Groff
directed by Tara Ahmadinejad
Starring:
ROSALYN COLEMAN, ALMA CUERVO, LAURA ESTERMAN, MARGA GOMEZ, MARCELINE HUGOT, EMILY KURODA, LIZAN MITCHELL, SOCORRO SANTIAGO, REBECCA SCHULL
and CONNIE WINSTON.
Learn More