"American Captives" is a Call for Justice
American Captives may seem like an unusual title for a piece about the American criminal justice system. The word "captive" recalls images of prisoners of war or kidnapping victims. But what makes "captives" the more apt word for Connie Winston's piece is that Lena Baker and Sandra Bland, the two African American women at the center of the play, were both prisoners who were unjustly held.
Lena Baker was executed by the state of Georgia in 1945 for murdering a white man. She pled self defense in the crime against her abusive employer and sexual partner, but was convicted by an all white, all male jury after a one day trial. Sandra Bland was found hanging from a plastic bag in her Texas jail cell in 2015, three days after she was pulled over and arrested for failing to signal. Her death was officially ruled a suicide, but her family settled for $1.9 million in a wrongful death lawsuit. In 2015, Ms. Baker was posthumously granted an official pardon by the state of Georgia.
Writer performer Connie Winston embodies both of these women as she recounts their lives and wrongful deaths at the hands of what she calls "the police state." But it is clear that Ms. Winston wants to do more than share their stories. Her performance is a call to action to change the American criminal justice system. On the stage is a bench draped in an American flag an ever present reminder of the entity Ms. Winston holds responsible. The deaths of people of color at the hands of the American criminal justice system, she says, "disgust me." There were sixty years between Ms. Baker's and Ms. Bland's deaths, she points out, yet the injustices they faced were all too similar.
Ms. Winston's piece has two main sections, one focused on Lena Baker and the other on Sandra Bland, but they are approached rather differently. Ms. Winston acts out much of Ms. Baker's abuse and trial, taking on the voices and physicality of Ms. Baker, her family, witnesses at the trial, and the man she was accused of murdering, Ernest Knight. Some scenes are performed simply, while others include projected visual aids, and Ms. Winston frequently acts out both roles in scenes between two people.
The section about Sandra Bland includes more technology and projections, as well as personal stories. Ms. Winston leaves the audience to watch projected police cam video footage of Ms. Bland's traffic stop the most damning evidence of her unjust arrest. The existence of actual video evidence in 2015, of course, partially explains this difference in tactic, but the video, while powerful, does not have the same personal, human impact of Ms. Winston's earlier embodiment of Ms. Baker. Ms. Bland's section also includes more digressions into other topics.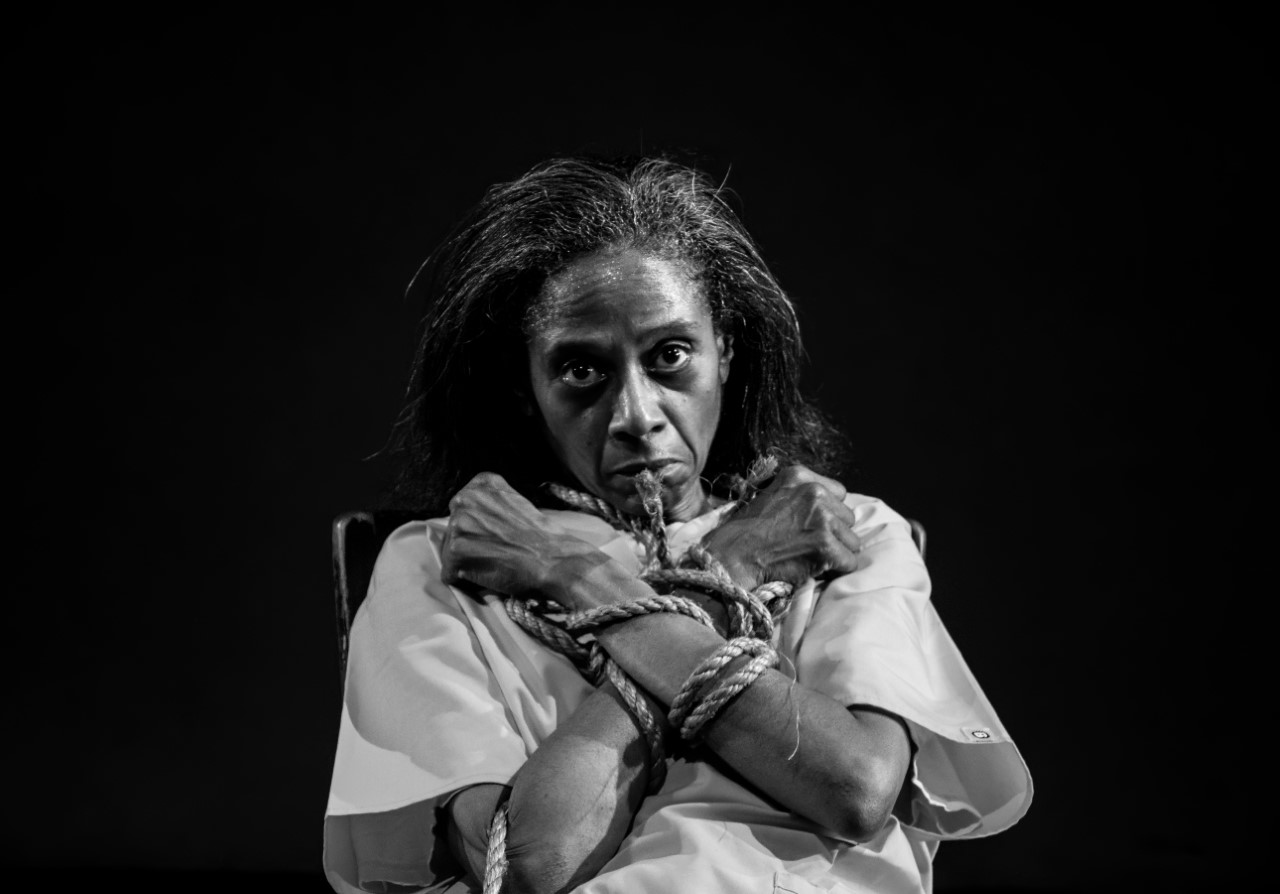 In addition to the two women, Ms. Winston casts herself as a metatheatrical observer, "The Actress." As "The Actress," she expresses her personal struggle to find belonging within a community of female artists of color. Her passion for the stories of Lena Baker and Sandra Bland, she says, helped her to find it. Ms. Winston shares her personal connections to the women, most notably to Sandra Bland, who, she says, reminds her of her first college love, Peaches.
Ms. Winston's performance is full of passion, detail, and consequence, but the breadth of topics and the sudden transitions between them occasionally dilute the overall message. She projects photos of five other African American women who died in police custody in the same month as Sandra Bland. She recites the names of several African American men killed by police brutality. She tells the story of a student who had never before been told her hair was pretty. She reveals her own diagnosis of AIDS. It is not that these pieces are not relevant or important to Ms. Winston's message, but it is difficult to give each the full weight they deserve in only 75 minutes, especially when the details of Ms. Baker's and Ms. Bland's stories are so effective on their own.
In her performance, Ms. Winston's plainspoken approach veers into territory that some might find insensitive. She refers to Brian Encinia, the state trooper who arrested Bland, as a "cracker Texas patrolman" and expresses her hatred of police officers in general. She wonders aloud why police have to "pick on" black people, instead of Chinese or Italians or Jews. She expresses her frustration with pink-hat-wearing millennials' "pretend" resistance to injustice. "American Captives" is a call to action, not a Kumbaya.
At the end of her performance, Ms. Winston literally holds a mirror up to her audience, asking them to see themselves in the faces of Lena Baker and Sandra Bland. She suggests that human stories are more effective than lists of facts when it comes to affecting change. May her play make a difference.
 2019 United Solo Festival
Best Actress: Connie Winston in "American Captives: Lena Baker and Sandra Bland"